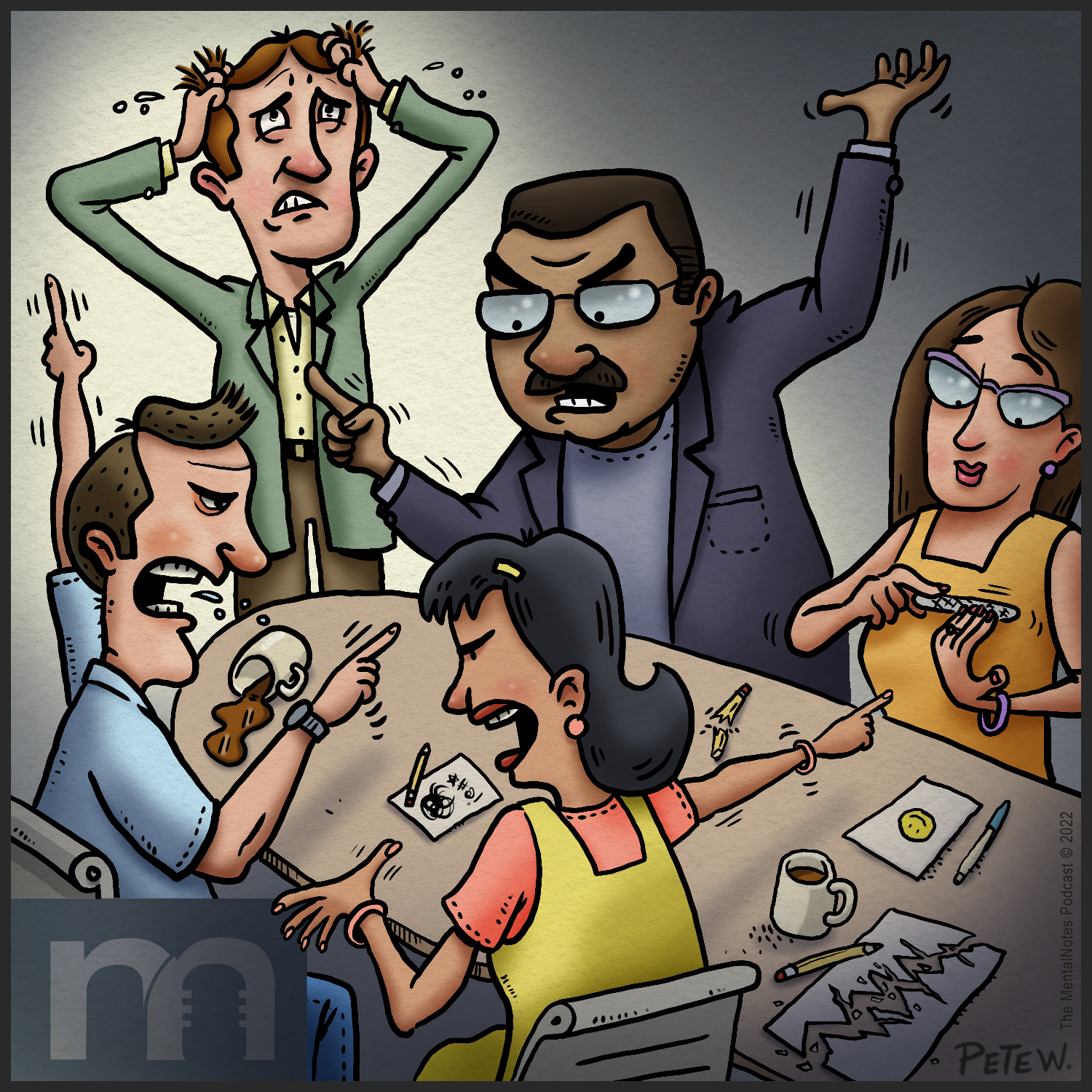 WORKSHOP PREP
Read or listen to the 6-episodes below (6-minutes reading/listening time)

Come prepared with a question, idea or best practice to share with group 

Ask Lila (Mentalnotes.ai) to draft an email for you using this prompt - "Design a 45-minute meeting agenda that promotes diverse thinking, healthy disagreements and constructive conflict, and Include tips for meeting participants".
CONFLICT IS A VALUABLE MANAGEMENT TOOL
"Conflict" is like a "sculptor's chisel". It can create something of value or break things apart. It can shape and refine ideas, relationships, and solutions; or it can do the exact opposite. Conflict can reveal deeper insights and foster growth, or it can stifle learning, diversity, and teamwork.
Like it or not, you're a sculptor. You're here to shape teams, chip away at problems, and create value. So you must embrace conflict. You can't avoid it. When you avoid conflict, it is still there, it's just unspoken, and it creates resentment, dissension, and disengagement.
So don't think of conflict as something to be avoided. You have to embrace it. Like the sculptor's chisel, it's an invaluable tool, but it takes skill and practice. So think like a sculptor, pick up that chisel, and get to work!
CONFLICT IS DIVERSITY IN ACTION!
Groupthink is like cooking the same meal over and over and never "taste testing". You can add too much salt to a dish without thinking about balance or flavor. It leads to poor decisions and an unpalatable outcome.
The opposite of groupthink is "constructive conflict." It's like a well-prepared meal where the chefs talk openly about their different ideas in a respectful way. Just as blending various ingredients can create a rich and flavorful meal, constructive conflict helps people think creatively, understand different points of view, and usually leads to better decisions.
Constructive conflict should be a key ingredient in setting goals, planning, making decisions, or solving problems. However, it's not always easy, just like preparing a complex meal. Sometimes people need encouragement to speak up and not just follow the recipe. Like a master chef who experiments and tastes as they cook, embracing constructive conflict can lead to more satisfying and successful results.
GROUPTHINK IS THE ENEMY 
Do you remember BlackBerry? BlackBerry once dominated the mobile device market with its business-focused phones, but groupthink within the company led to its downfall.
They agreed to stick with what worked before, ignoring changes in technology and customer wants. They resisted new ideas like touchscreen technology, believing their keyboard design was best and that consumer apps would never be allowed on business devices and this caused them to fall behind competitors like Apple and Android, who understood what people wanted. BlackBerry's failure to adapt and innovate made them lose customers, and their reputation suffered.
Blackberry is just one example of a highly successful business that suffered from groupthink. So remember - "Groupthink stifles innovation and leads to complacency. It is the silence of dissenting voices that often precedes the downfall of great endeavors."
THE ABILENE PARADOX 
Imagine a group of people collectively deciding on a course of action that none of them really wants. This is the Abilene Paradox.
Picture a family agreeing to drive to Abilene for dinner. Nobody wants to go, but they all think that the others do. They agree to avoid conflict. After and unenjoyable trip, they return home and discover that no one wanted to go in the first place. Each person feared opposing the others, assuming they had strong preferences. The result? An unnecessary, unsatisfying experience.
The Abilene Paradox isn't just about dinner plans. It happens in workplaces and social groups when people don't communicate their true feelings or beliefs. They go along with the group, even when it's contrary to what they want, often leading to unproductive or frustrating outcomes.
So the next time you find yourself in a group, remember the Abilene Paradox. Don't just go along with the crowd. Voice your true opinion. Open communication and the courage to speak up can prevent a metaphorical trip to Abilene and lead to better, more satisfying decisions.
SITUATIONS THAT LEAD TO GROUPTHINK 
Here are 8 "red flags" that can lead to groupthink:
An opinionated leader.

A close-knit team with similar backgrounds and perspectives.

A consensus-oriented culture,

Teams that are isolated from outside opinions and perspectives.

Teams under intense pressure to make decisions, especially if they are rushing to meet a tight deadline.

An unstructured process for making decisions that encourages diverse opinions and critical analysis.

A cliquish culture where members are afraid to voice dissenting opinions, and…

Successful, overly confident teams may not fully analyze all available options or consider potential risks.
You can manage these red flags by actively encouraging open dialogue, diverse opinions, and critical thinking.
HOW TO PROMOTE CONSTRUCTIVE CONFLICT 
Here are 7 ways to promote constructive conflict:
Tell the team that it's okay to have different opinions and make sure they know how to disagree without being disagreeable.

Let everyone know that their ideas are welcome. Ask questions that make people think, and listen to what they say.

Make sure people feel respected, even if they think differently.

Bring in someone with a different point of view or appoint a devil's advocate. They might see things in a way that no one else does.

Don't rush decisions. Give people time to think things through.

After a decision, talk about how it went. Did everyone get to speak? Was the choice a good one? And…

Be a role model and show the team how to disagree in a good way. If they see you do it, they'll learn how to do it too.
Remember - if you don't promote constructive conflict, people are going to just go along to get along.
PRACTICE TIPS 
Develop and mentally rehearse a few different 1-minute monologues regarding the importance of diverse thinking, healthy disagreements and constructive conflict. 
Ask Lila to help you develop metaphors and analogies for your 1-minute monologue